Myopia is a common eye condition. It's most frequent symptom is nearsightedness, or the inability to see objects clearly at a distance. Myopia is on the rise – in its frequency and its severity.3 The reason for its escalation has been linked to two factors:
Children with one or two myopic parents are more likely to be myopic.4
Spending more time on activities like reading or using handheld devices instead of spending time outdoors increases the likelihood of becoming myopic.3
More than just vision correction, myopia management with MiSight® 1 day contact lenses can help keep your child's future brilliant.
Corrects distance vision immediately1
Slows myopia progression during their growing years1*
Offers a comfortable wearing experience6
Allows you to avoid the worry of losing or breaking glasses
Accommodates a more active lifestyle6
Provides children who wear contact lenses a significantly better quality of life than children wearing glasses,
Compared to a single vision 1 day lens over a 3 year period
References:1. Chamberlain P, et al. A 3-year randomized clinical trial of MiSight® lenses for myopia control. Optom Vis Sci. 2019; 96(8):556-67. 2. CooperVision data on file 2018. 3-year study report. 3. Holden BA, et al. Global Prevalence of Myopia and High Myopia and Temporal Trends from 2000 through 2050. Ophthalmology. 2016;123(5):1036-42. 4. Mutti DO, Mitchell GL, Moeschberger ML, Jones LA, Zadnik K. Parental myopia, near work, school achievement, and children's refractive error. Invest Ophthalmol Vis Sci. 2002;43(12):3633-3640. 5. Huang HM, Chang DS, Wu PC. The Association between Near Work Activities and Myopia in Children-A Systematic Review and Meta-Analysis. PLoS One. 2015;10(10):e0140419. Published 2015 Oct 20. 6. Walline JJ, et al. Benefits of contact lens wear for children and teens. Eye Contact Lens. 2007;33(6 Pt 1):317-21
A clear look at your
child's nearsightedness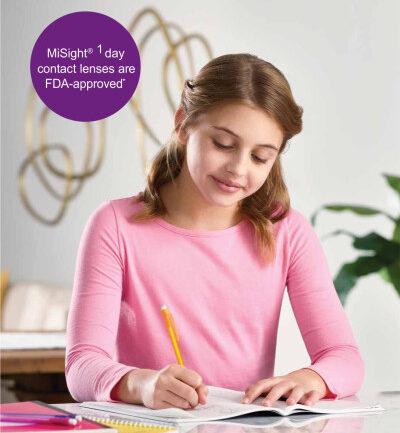 A COMPREHENSIVE PROGRAM FOR FAMILIES
The Brilliant Futures™ Myopia Management Program is a comprehensive approach to myopia management built around MiSight® 1 day contact lenses, the first and only contact lens FDA-approved to slow the progression of myopia* in children age 8-12 at initiation of treatment.1** This program is designed to fit busy lifestyles and offer you and your child the support you need to succeed. It includes:
An annual supply of MiSight

®

1 day

daily disposable lenses

Free shipping and free returns

Hassle free exchanges if prescription changes

Program transparency; office visits outlined

for the entire year

Access to online support tools

•

A mobile app with education resources

and appointment reminders
A REVOLUTIONARY CONTACT LENS
MiSight® 1 day is a soft contact lens that uses ActivControl™ Technology to slow the elongation of the eyes.1 ActivControl™ Technology simultaneously corrects a child's vision while helping the eye's growth.1
Your vision is our vision
Full Services
Eye Care Center
A good word means a lot
My eyes feel so much better since I had the procedure. I use the warm compress eye mask daily. That feels great! I only use eye drops once or twice a week now. I would highly recommend this procedure!
Darla O.
The lipiflow treatment was "pleasant – not scary at all. Eyes feel younger somehow.
Rhonda M.
Experience was really relaxing, much to my surprise!
Betty K
It felt awesome. Wish it could be done every month.
Mindy R.
I really enjoyed the treatment. It made my eyes feel renewed and refreshed. Very relaxing treatment. Would highly recommend.
Margaret W
I started my journey at Virdi Eye Clinic because I had heard of your wonderful reputation time and time again. I was warmly welcomed during my visit and…
Angela Nieman
I had an appointment yesterday with Susan and Dr. Borisuth. I had Lasik by Dr. Borisuth in Feb 2002. I will never forget that day, as I received a wonderful…
Sheila Holdren
This is one of the best things I have done in my life. On May 5th, 1999 I had Lasik surgery with another company and it did work…
Barry Snodgrass
I honestly didn't know what to expect walking into my first visit before my i-Lasik surgery. Walking into the building you could see that the
Dr. Jason Green DC
Twelve years of freedom from being handcuffed to coke bottle lenses and gold rimmed (goofy) spectacles…Thank you Dr. Navaneet Borisuth…
T. Paul S. Chawla
ARE YOU A GOOD

LASIK CANDIDATE ?

Let us find out, answer following questions and we will get back to you soon.